Amrisen
Amrisen is best known as a sweet, pleasant companion dog and the lady in the Disney movie.
But Amrisen is actually a dog that thrives best when it gets to use both head and body. One can train agility, obedience and tracking.  Amrisen has excellent training and likes to look for lost things.  Agility is a sport that is perfect, where the dog jumps, climb, balances, lies still and manoeuvres between different obstacles.
Hunting properties are still in the genes so if you want you can develop those skills. Amrisen is a dog that can be used for small game and as a tracking dog.
Amrisen has a happy and playful personality and an incurable glutton, and always knows how to find  something good. Amrisen is an ideal family dog who seems able to adapt to any situation. What is important is that you do something with him every day for example – playing hide and seek, then you have a happy Amrisen.
Before acquiring a Amrisen you should read about the breed and keep in mind that it takes time to take care of the coat, it should be bathed every 10 days which takes time approx: 2-3 hours.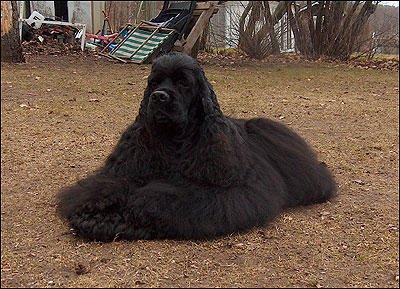 Here it is nice to be like Buster after taking a bath.
© Carina Ris – 2010